L.A. Heat
March 13 - July 12, 2014
The LA Heat: Taste-Changing Condiments exhibition featured artists exploring notions of identity,community, and foodways through homegrown all-American condiments that have dramaticallyimpacted American cuisine: Sriracha and Tapatio, Over 25 Los Angeles based artists were curated including Erik Benjamins, Audrey Chan, Gajin Fujita, Phung Huynh, Nery Gabriel Lemus, Sandra Low, Patrick Martinez, Jose Ramirez, Yoshie Sakai, Jose Sarinana, and Henry Taylor among others.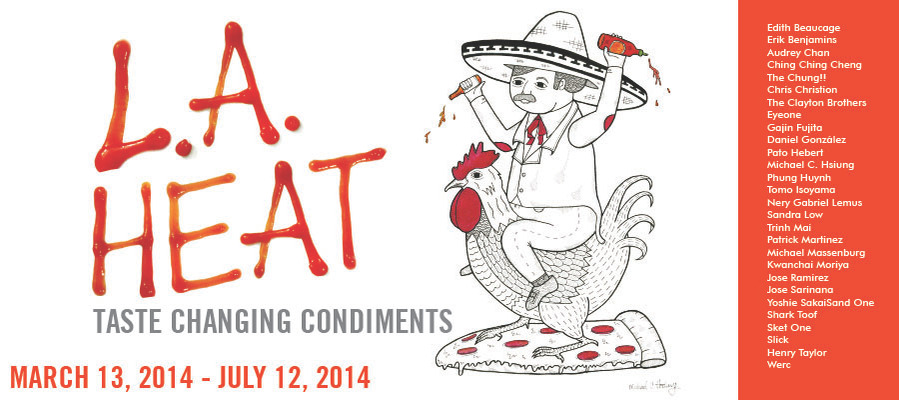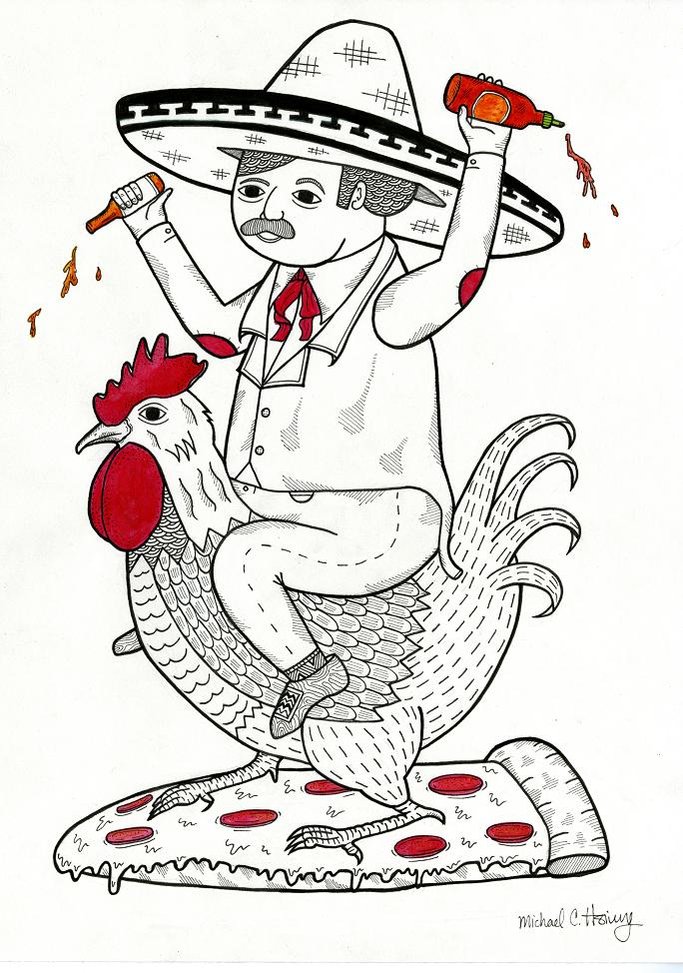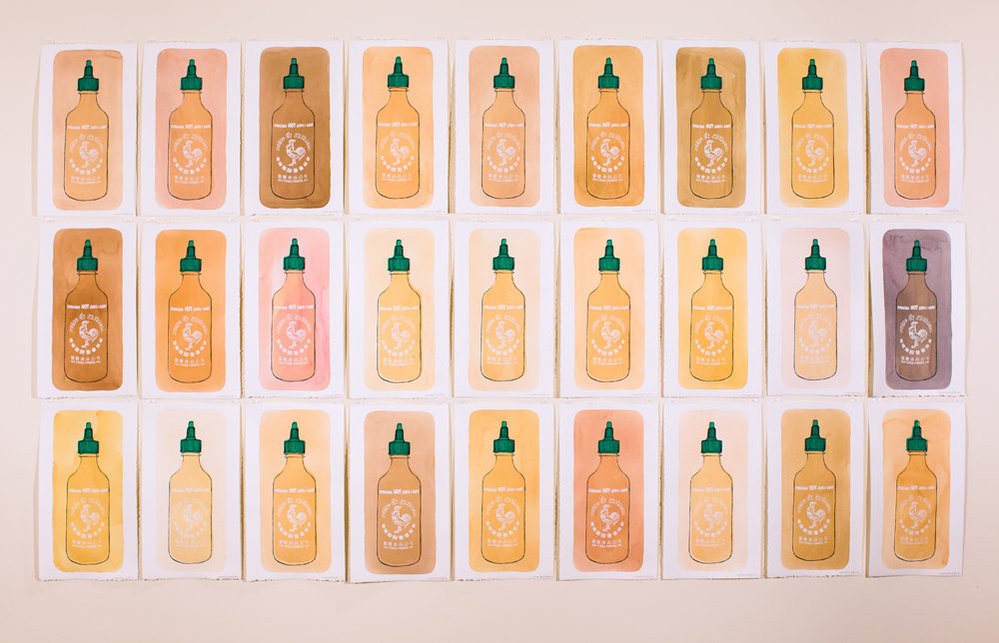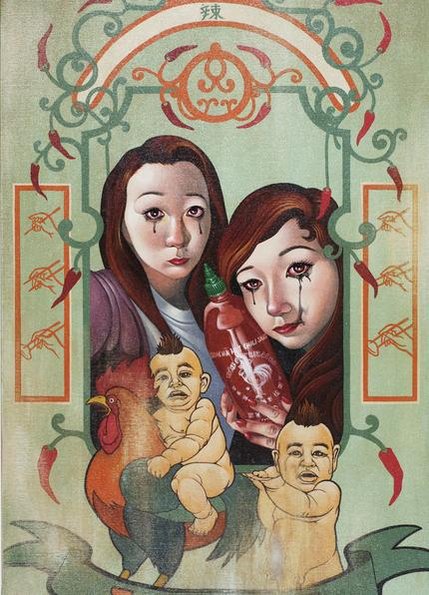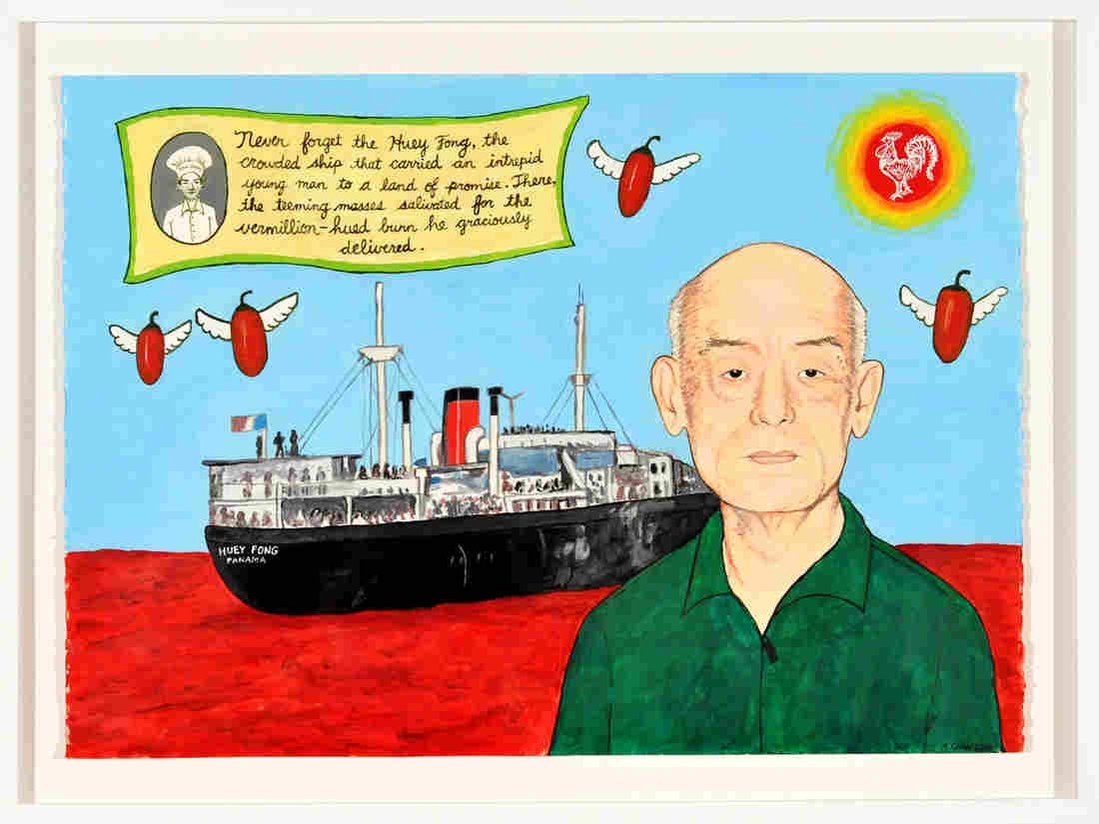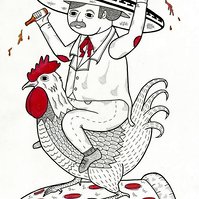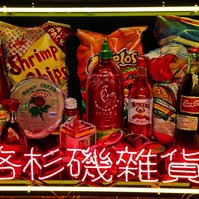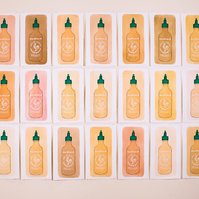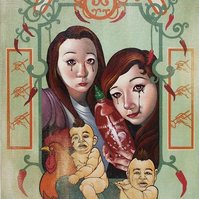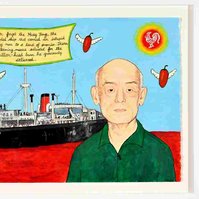 Curatorial Statement: Enchilatelavida
Developing an exhibition concept for the Chinese American Museum's 10th anniversary was a fun challenge for our curatorial team. We took on the task by coming up with an art show based on local hot sauces. However, the exhibition, L.A. Heat: Taste Changing Condiments, is a hot mess – no pun intended. Beyond the curatorial challenges of bringing together under one roof: designers, illustrators, street artists, and gallery artists – each representing disparate art worlds – we have broken one of my cardinal rules: Don't develop an exhibition based on food.
There are "Four F's" that cultural institutions – mainly cultural organizations representing marginalized ethnic communities in America – should avoid: famous people, festivals, fashion, and food. I first learned of the Four F's more than a decade ago in the academic bubble of grad school and since then struggled to avoid them as the curator for Chinese American Museum. Our role as cultural producers and as stewards of the Chinese American experience and history is to challenge the misconceptions and cultural reductions that often prevail in the American imagination. All-too-often, our own ethnic communities celebrate the Four F's (with good intentions) to demonstrate success, acceptance and assimilation, further perpetuating these cultural reductions.
With the multitude of stories to tell that illustrate the depth of our community, does our museum really need to educate mainstream America about chop suey, Bruce Lee, cheongsams, or Chinese New Year? Probably not; but perhaps the Four F's need a reexamination.
Since the city's founding, Los Angeles has been uniquely situated on the Pacific Rim, where people from diverse backgrounds intersect and contribute to the city's dynamic, fluid, and contentious culture. Occasionally these cultural crossroads – often spurred by poverty, racism and xenophobia – have produced tragic events like the 1871 Chinese Massacre, the 1943 Zoot Suit Riots, the 1965 Watts Riots, and the 1992 Los Angeles Civil Unrest. These are by no means the polished moments of L.A.'s multiculturalism. L.A. remains a mélange of fragmented ethnic enclaves, in both the urban core and its ethnoburbs.
However, this confluence of cultures has also made L.A. a laboratory and incubator for cultural innovation. Influenced by factors like globalization and transnational migration, these cultural intersections have inspired L.A.'s food culture and have altered the national and international food palette. Sriracha and Tapatío hot sauces are two examples of the recent homegrown culinary creations that have dramatically impacted American cuisine. It's no surprise that Sriracha and Tapatío were developed in L.A. The rise in popularity of these condiments signifies an increase in Asian and Latino populations living in the U.S. after the passing of the Immigration and Nationality Act in 1965. These sauces and their histories contain common, yet atypical immigrant narratives.
In 1971, Mexican immigrant Jose-Luis Saavedra, Sr., started Tapatío Hot Sauce in his home in Maywood, California. Struggling to market and distribute his product, he received his first big break when a Japanese American-owned grocery store placed the company's first major order of Tapatío. David Tran, a Chinese immigrant from Vietnam, started making Thai-inspired sauce in a small shop in Los Angeles' Chinatown circa 1983. Today, in large American cities, both Sriracha and Tapatío contend with Heinz Ketchup and French's mustard as the next ubiquitous all- American condiment.
Many embrace David Tran and Jose-Luis Saavedra Sr. as success stories that imply the American Dream is alive and well (at least for some). I do not suggest that anyone take away their achievements, although the current disputes with the City of Irwindale and their attempts to shut down the Sriracha processing plant will indeed facilitate this for David Tran. More important to this exhibition is the potential for Sriracha and Tapatío to destabilize imaginary notions of
ethnic and culinary authenticity. For example, Sriracha is the fastest growing American condiment that was developed from a Thai recipe by an ethnic Chinese immigrant from Vietnam that is now commonly used on burgers and pizza. If food has a strong connection to culture and place, where do we locate Sriracha?
It is difficult to place cultural productions that emanate from this heteropolis that is L.A., with its multitude of histories and people. That is both the challenge and the allure of any exhibition about Los Angeles. Tapatío and Sriracha are symbols of the sociocultural plurality and hybridity of L.A., and they are also examples of cross-cultural influences that help define Los Angeles as a leading creative capital of the United States. These condiments, with their histories, mythologies, and cultural signifiers, are ripe for artists to explore.
Food has always been a subject, inspiration, and metaphoric vehicle for artists. Early examples include Paleolithic cave paintings and Christian biblical paintings depicting the Last Supper, the most popular being Leonardo da Vinci's mural from the late 1490s. Fast forward to Cézanne's still life paintings, Diego Rivera's depiction of the labor of food production with his Making Tortillas (1926), Andy Warhol's extensive use of Campbell Soup cans, and more recently Ai Weiwei's Sunflower Seeds (2010). L.A. Heat follows in this long tradition with the examination of the impact and meaning of food in our lives; and how two L.A. hot sauces can offer a layered metaphor for social/ethnic differences and unification of regional/national identities.
In the largest group exhibition the Chinese American Museum has undertaken, 30 L.A. based artists were selected for their ability to represent Los Angeles as Angelenos. In taking on a deceivingly simple pop theme, we consequently unpacked the multifariousness of how these artists relate to Los Angeles vis-à-vis Sriracha and Tapatío. All 30 artists in this exhibit approached the subject through a multiplicity of viewpoints.
The exploration of L.A. through its different neighborhoods and sub-cultures is a reoccurring theme in the exhibit. Portions of L.A. can exist almost unseen, whereas others can be esoteric, yet highly visible as is embodied in Nery Gabriel Lemus' nod to L.A.'s pervasive car culture with his piece El Spicy and in Patrick Martinez's inquiry into L.A.'s ethnic food markets with his piece, Los Angeles Grocery.
Some artists probe the cultural and social practices of cuisine, as found in Shark Toof's Tablecloth, while others explore family traditions and the cultural connections with food as referenced in Eyeone's Separate / Equal. Foodways, traditions, and recipes can be passed down for generations and last for centuries. However, this transmission can be much more tenuous and temporal as Erick Benjamins' Searing Red Dust (The Vanishing Huy Fong Foods Cookbook) suggests.
Several painters in the exhibition, known for their portraiture, approach their subjects with formal figuration and abstraction. Henry Taylor's untitled portrait uses his characteristic textured and raw paint handling; whereas Edith Beaucage's viscous paint application in Dragon Frederick Louis of Rimouski glides and renders her subject as if it were a sauce ready for consumption; and Kwanchai Moriya's vibrant color palette pays homage to the ubiquitous red-sauce and green cap.
Other artists have shifted the focus away from Sriracha and Tapatío such as Tomo Isoyama's Bento of Champions, that recognizes the spectrum of chilies that make up Los Angeles' broad cuisines in his mandala-esque kaleidoscope of peppers, and Gajin Fujita's LA Heat (Wasabi) that re-centers wasabi back into the conversation and reminds us that L.A. was an early adopter of Japanese cuisine.
Considering the inspiration of the exhibit, many of the artists approach their work in a playful, fun, and sometimes absurd manner. Yoshie Sakai's whimsical video, Hot Side Story conjures happy ethnic tensions through the battle of American condiments with her pop-influenced references of the American musical, West Side Story. Other artists mash-up the fantastic with the current
Sriracha controversy as seen in such works as Jose Sarinana's installation Sriracha Haze (California Trippin') and Phung Huynh's Lah. Daniel Gonzalez' L.A. Heat print implies, albeit in a playful way, the impeding battle over the city of Los Angeles by the two giants of Tapatío and Sriracha.
While civil unrest can result from the clashing of disparate communities, intersections between them can also give rise to a thriving metropolis that embraces and celebrates difference, plurality and hybridity – all the ingredients that make Los Angeles the perfect laboratory for cultural innovation. Perhaps L.A. Heat is a microcosm of this larger experiment. The artists represented in this exhibition are from different communities – geographic, ethnic, and artistic – that are constantly evolving, inevitably unpredictable and variably messy, but these are the risks of creating the perfect cocktail for something new and wonderful in the experimental playground that is Los Angeles.
I suspect that my recent position as both the Interim Executive Director and Curator, with the real- world concerns of developing exhibitions that have broad appeal and will generate high visitor numbers, may have been the initial trigger for considering the Four F's. So rather than taking the easy road and just avoiding it, L.A. Heat challenges popular cultural reductions by examining the complexities of food, and unpacking the narrow notions of the Four F's. The Chinese American Museum indeed has a role to share the untold stories of our communities, but perhaps we also have a responsibility to demonstrate that famous people, festivals, fashion, and food are a little more nuanced and complex than in the simplified imagination of America and the exotification of the other. What better time and place to challenge these notions than the next 10 years of programming and exhibitions at the Chinese American Museum.